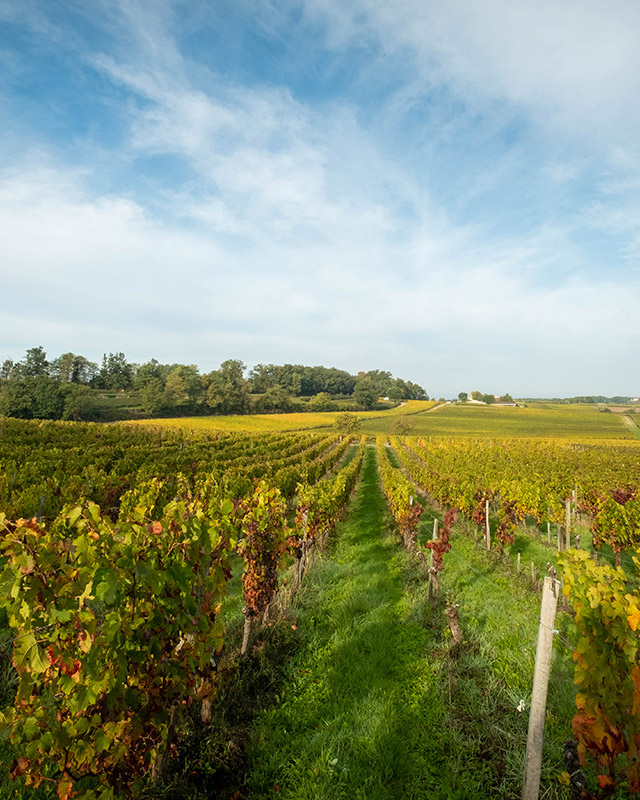 WINE APPELLATION:
Côtes de Castillon
Côtes de Bordeaux
This appellation is located on the right bank, with an altitude difference of more than 100 meters spread over 3000 hectares,
3 main types of terroirs make Castillon an exceptional land. Gravelly near the Dordogne river, the clay soils at the foot of the slopes become clay and limestone on the plateaus.
It is composed of beautiful hilly landscapes and it is the most wooded appellation. This composition brings a natural richness.
Surface : 14 hectares
soil : a superb terroir of clay-limestone slopes, adjoining the Saint-Emilion appellation which ends on a limestone plateau.
Planting density : 6000 plants / hectares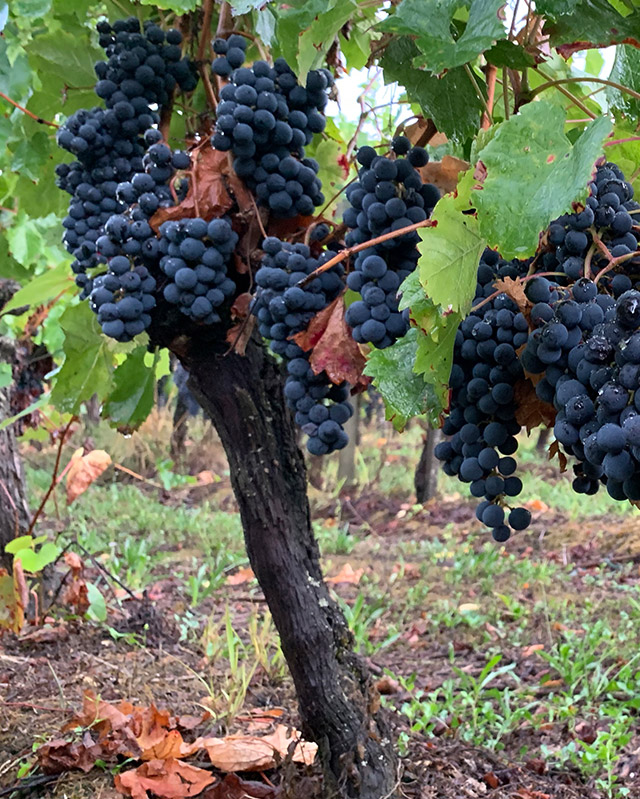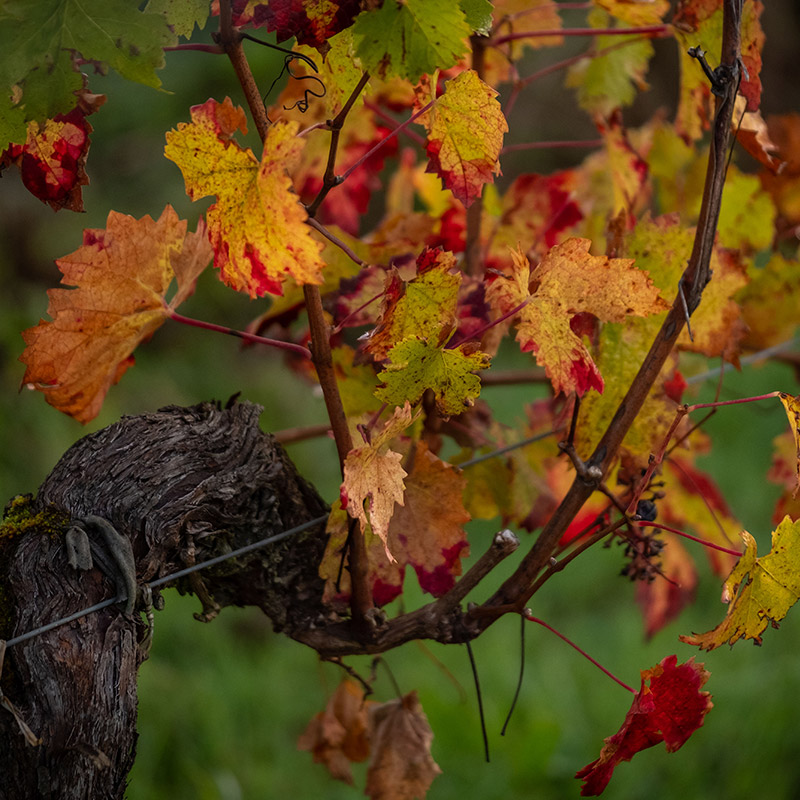 40 years of age for Merlot and Cabernet Franc/Cabernet Sauvignon
5 years for Chardonnay
A limestone plateau of 1.5 hectares of Merlot with a beautiful southwestern exposure.
7.5 hectares of clay-limestone slopes in one piece with a western exposure, accompanied by a beautiful hedge of trees that protects an essential ecosystem for the development of the vine.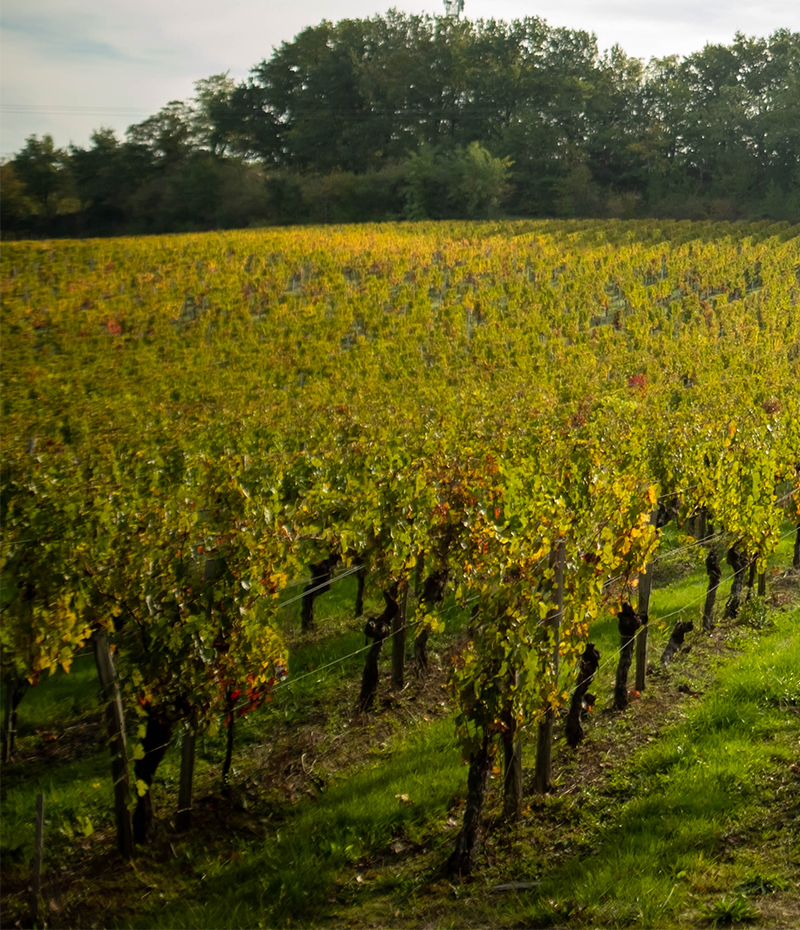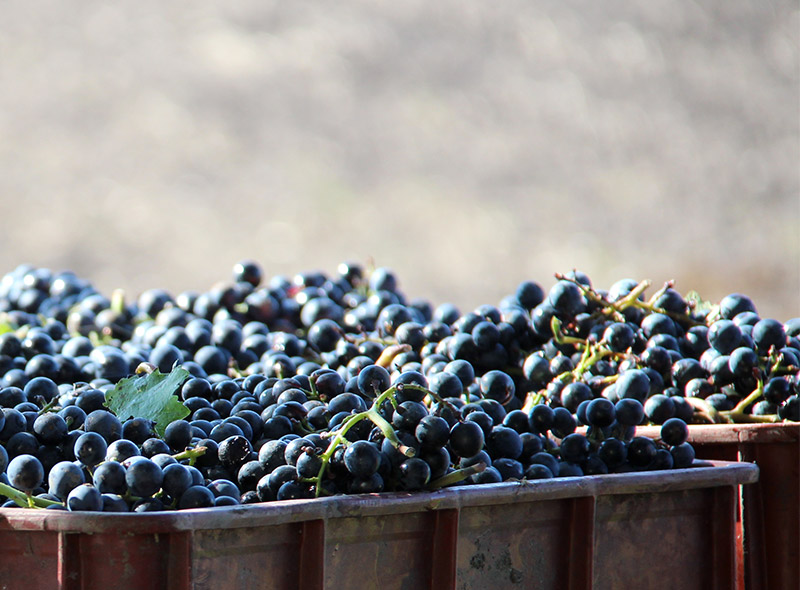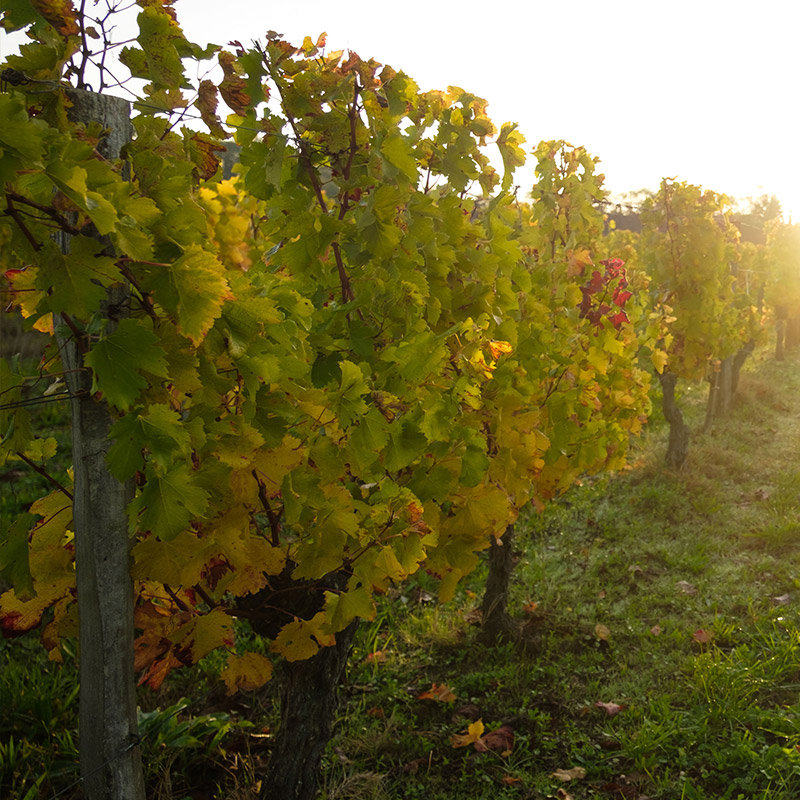 Red grape variety : 85% merlot, 10% Cabernet franc, 5% Cabernet Sauvignon
Merlot : Red grape variety, with small black berries appeared at the end of the XVIII century.
Dark and dense in color, with aromas of red and black fruits and a superb aromatic palette, it transforms during its aging to give way to notes of prunes, undergrowth and spices.
The Merlot brings roundness and soft tannins.
Cabernet Franc : Very old red grape variety, it is complementary to Merlot. It is distinguished by its aromatic finesse and spicy aromas.
Cabernet Sauvignon : Resulting from a marriage with Sauvignon Blanc and Cabernet Franc in the 17th century. It represents one of the most noble grape varieties of France, recognized worldwide. Thanks to its late maturity, it brings a structure and vigorous tannins as well as a beautiful aptitude for aging.
White grape variety : 100% Chardonnay
A Burgundy grape variety, its golden grapes give great white wines with varied aromas of citrus, dried fruit and sometimes mineral notes. Slowly evolving, it is the ideal grape variety for aging wines.
The vine and Man are complementary.
The power of Nature and the mastery of Man combine to give birth to respectful, velvety and structured wines.
A pleasure to share !

Fleur de scène : Cuvée d'Exception :
Manual harvest in crates, destemming and manual sorting on sorting table

Vinification : Fleur de Scènes is aged for 12 to 15 months in new barrels.
Extraction by punching.
Château La Comédie : Machine harvesting

Vinification : Château la Comédie is aged in vats for about 10 to 12 months.
Extraction by punching down.
Cuvée Chardonnay : manual harvesting in crates, stalking and manual sorting on a sorting table.

Vinification : Chardonnay is vinified and aged in barrels for about 10 months (blonde toast).
Extraction by pigeage.
OPERATIONS MANAGER : Franck Launay

Oenologue : Caroline Ballestre

VINIFICATION : Gregory Ballestre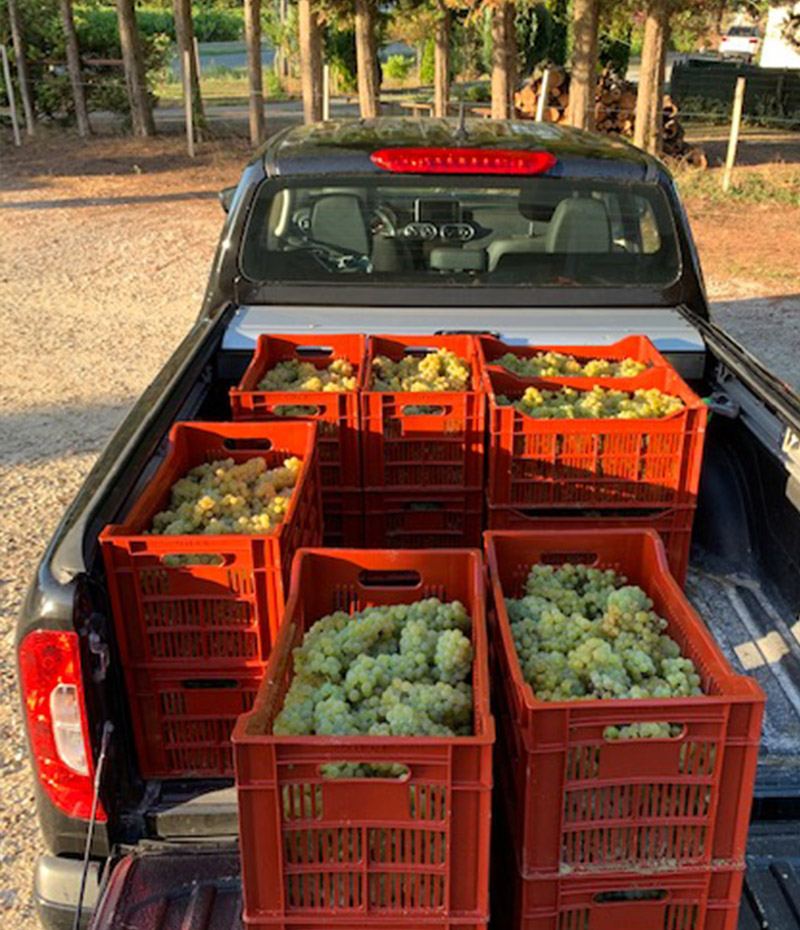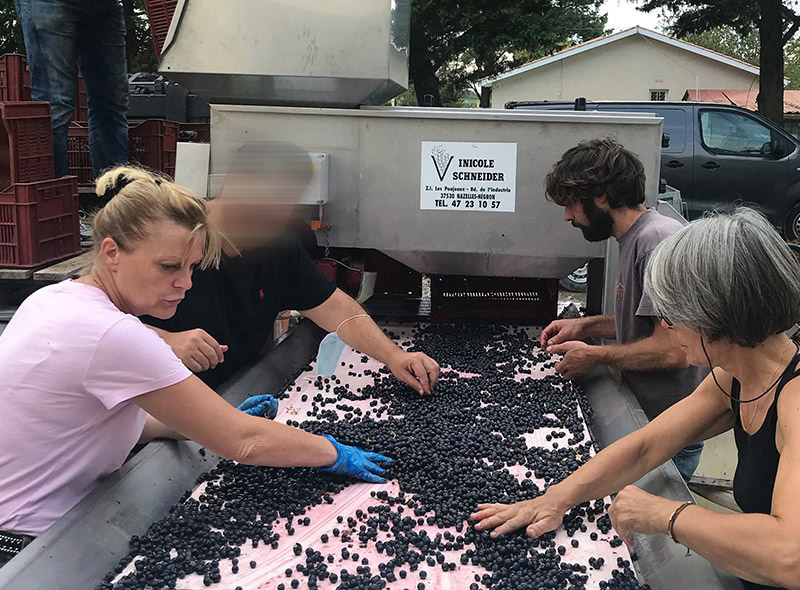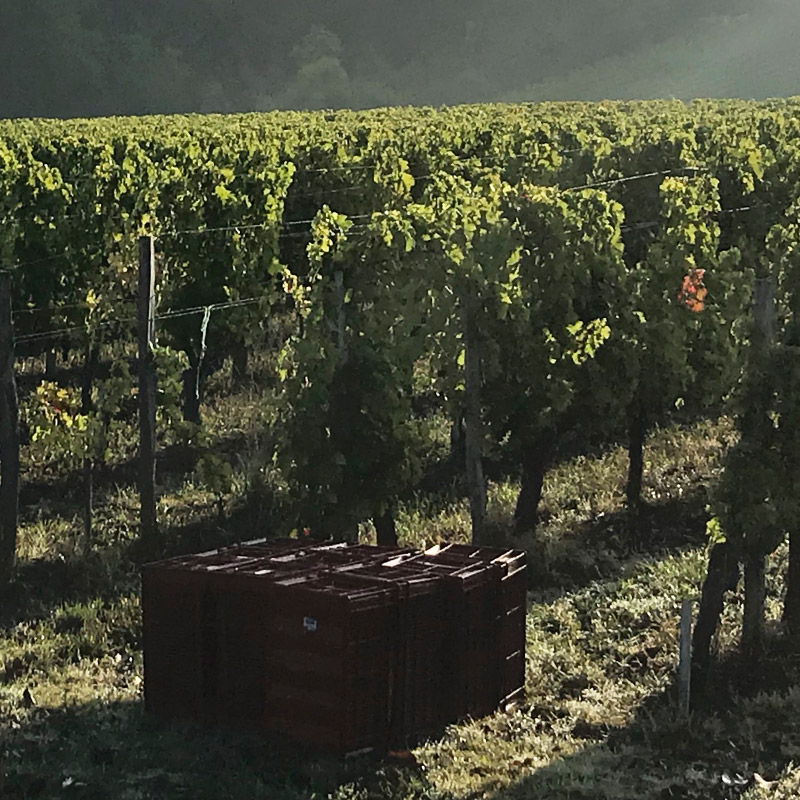 The vine is a living being that deserves the greatest care and attention.
Guyot pruning, soil cultivation, grassing, composting, working under the foot without herbicide, or the structuring of hedges are all natural means contributing to the autonomous protection of ecosystems and giving birth to authentic wines.
"Listening to Nature and being reactive to the whims of the weather is part of our daily life.
Visit Us
Chateau La Comédie
4 Lieu dit Les Landes
33350 Saint-Colombe
Château La Comédie
[/db_pb_map_pin]